Jeji Varghese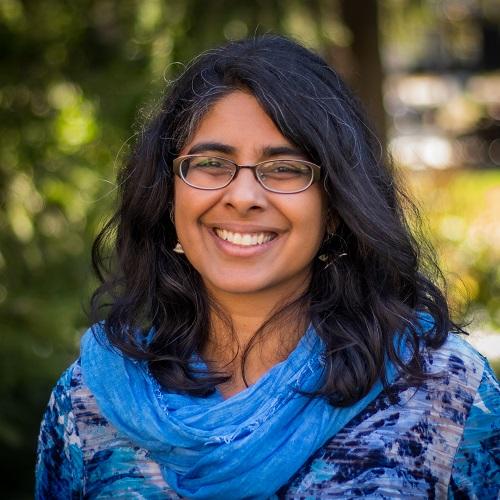 Education:
PhD, Rural Sociology, University of Alberta (2005)
Jeji Varghese is an Associate Professor of Environmental and Natural Resource Sociology. As a community engaged scholar, her current research interests include Indigenous and Western Science knowledge systems engagement in natural resource governance, household sustainability practices, and community engaged learning.
As an environmental/natural resource sociologist and community engaged scholar, Jeji's research interests focuses on social aspects of environmental issues, with a particular focus on four broad themes:
Indigenous and Western Science knowledge systems engagement in equitable and just socio-ecological transitions
voice/power of those often marginalised in socio-ecological governance;
interface between social science research and environmental policy; and
scholarship of teaching and learning (SOTL) focusing on student engagement in learning and community engaged teaching and learning (CETL).
Her teaching interests include environmental and natural resource sociology, Indigenous-Settler relations in nature stewardship/ natural resource governance, and community-engaged qualitative research. Her courses often include a community engaged learning (CEL) component.
Jeji Varghese completed her PhD (2005, Rural Sociology) in the Department of Rural Economy at the University of Alberta. Her dissertation research focused on the social consequences of local ownership in six forest-dependent communities in Canada. Prior to joining the Department of Sociology and Anthropology, she conducted research related to water governance as a Research Associate with the Guelph Water Management Group in the Department of Geography.
Varghese, Jeji & Crawford, Stephen S. (2020). A Cultural Framework for Engagement of Indigenous, Local, and Science Knowledge Systems in Ecology and Natural Resource Management. Ecological Monographs. https://doi.org/10.1002/ecm.1431
Shakespear, Mark, Varghese, Jeji, & Morris, Rosanne. (2020). We are Nature: Exploring Nature Conceptualizations and Connections through Children's Photography. Children, Youth and Environments.30(2): 1-29. https://doi.org/10.7721/chilyoutenvi.30.2.0001
Buchholz, Andrea & Wolstenholme, Janet & Varghese, Jeji & Robinson, J. & Spencer, Jennifer & Reniers, Jennifer. (2019). Educational Leadership in Teaching Excellence (EnLITE): A Peer-Driven Faculty Development Program. The Canadian Journal for the Scholarship of Teaching and Learning. 10 (2). https://doi.org/10.5206/cjsotl-rcacea.2019.2.8178
Levac, Leah; Parizeau, Kate; Varghese, Jeji; Morton, Mavis; Jackson, Elizabeth; Hawkins, Linda. 2018. "Towards a Framework for Building Community-University Resilience Research Agendas" Soc. Sci. 7, no. 12: 260. https://doi.org/10.3390/socsci7120260
Smith, Natasha, & Varghese, Jeji. (2016) Role, Impacts and Implications of Dedicated Aboriginal Student Space at a Canadian University. Journal of Student Affairs Research and Practice, 53 (4), 458-469. https://doi.org/10.1080/19496591.2016.1167065