Public Issues Anthropology MA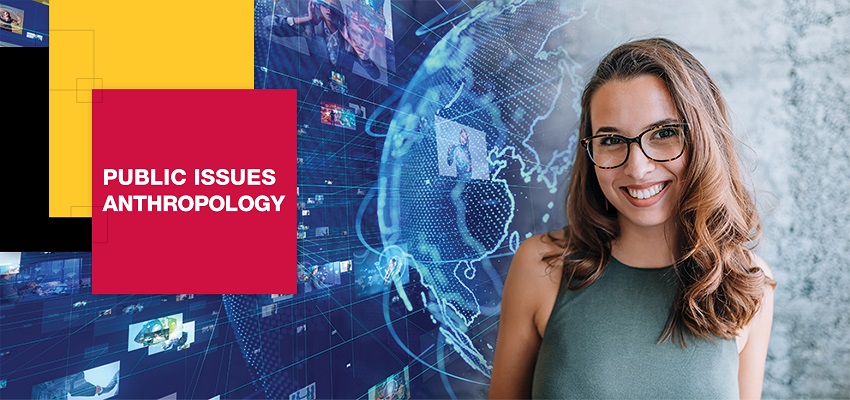 As anthropologists, we are uniquely positioned to explain, address, and respond to the major public and social issues of our time. With an understanding of community dynamics and global processes, our program focuses on the interface between anthropological knowledge and practice.
We work with students to address issues critical to contemporary governance, public discourse, livelihoods, and civil society and to meet the demands and concerns of our world. Our Public Issues Anthropology (PIA) MA program seeks to make our world a better, healthier, more equitable place to live.
PIA Students develop and hone the analytical, writing, and communication skills needed to apply anthropological concepts and methods inside and outside of academia. Our students have conducted research in a variety of cultural settings including Botswana, Canada, Honduras, Jamaica, Madagascar, Nepal, and Paraguay.
---
Faculty conduct research on a wide range of public issues including migration, globalization, human rights, Indigenous rights, dietary practices, health, agriculture, rural livelihoods, One Health, primate conservation, international development, disabilities, and families and aging.
| Faculty Name | Research Topics | Geographical Areas |
| --- | --- | --- |
| Dr. E. Finnis | Biocultural approaches, political ecology, medical anthropology, agricultural transitions, diet and food, gender, health and environment, human ecology, nutrition | India, South Asia, Paraguay |
| Dr. K. Gagné | Ethics of care, environment, human-animal relations, Anthropocene, climate change, technopolitics, infrastructure, citizenship and subjectivity, border areas, statemaking | Himalaya, Ladakh, India |
| Dr. S. Kawano | Sociocultural anthropology, ritual and religion, identity and personhood, anthropology of space and place, family and kinship, child rearing, disabilities, death, aging | Japan, East Asia |
| Dr. B. Leach | ​Anthropology of policy, economic restructuring, ethnographic approaches to economic change, political economy, immigration policy, rural communities, women's organizations, livelihoods | Ontario, Caribbean |
| Dr. T. McIlwraith | Ethnography, ethnohistory, applied anthropology, territoriality, Indigenous rights, land use, local and family history, traditional knowledge, ethnography of speaking | First Nations communities, Canada |
| Dr. E. Nelson | Sustainable food systems, agroecology, community development, ecological resilience, community engaged scholarship | Canada, Latin America |
| Dr. S. Srinivasan | Young people's pathways into farming in Canada, China, India and Indonesia; relative contributions of daughters and sons to their elderly parents' well-being | India, South Asia, Indian/South Asian diaspora |
| Dr. T. Steffens | Primate conservation, biogeography, spatial ecology, One Health, zoonoses, community development in Madagascar | Madagascar |
| Dr. R. Sylvain | Indigenous peoples, human rights, development, gender, race, ethnicity, class, globalization | Southern Africa |
The PIA program prepares students to enter doctoral programs in anthropology and to use anthropological knowledge in a range of professional and public roles. Our graduates are well prepared to apply anthropological perspectives and insights to a variety of public issues in diverse workplace and academic settings, both as active citizens and as professionals.
The courses in the PIA program were interesting and relevant, and faculty encouraged students to engage with complex issues and multiple theoretical perspectives. I work as a human environment consultant and sociocultural anthropologist for a consulting firm, where I've undertaken projects on traditional knowledge, oral history, and land use studies with Indigenous groups in Manitoba and Ontario. Among other things, the PIA program provides students with sound training in research, analysis, and writing – skills that I use every day in my career.
The skills and knowledge I gained in the Public Issues Anthropology program have been invaluable in my endeavors as both a PhD student and as a public scientist. The program allowed me to build my methodological skills in sociocultural/medical anthropology, while the knowledge I gained about engaging with diverse publics through both coursework and my research practice has allowed me to be a more effective mental health advocate and public scientist. The PIA faculty are knowledgeable and supportive and setting a collegial tone for the program."

— Adrianna N. Wiley, Class of 2022
The PIA program helped me to apply anthropological theories to contemporary issues in Canada and abroad. Completing an MA thesis on Indigenous well-being and mining granted me insight into the complexities of resource development in Canada's north. This research experience enabled me to find a job as a research assistant with a socio-economic consulting company that oversees public and Indigenous consultation processes for various development projects.
I had the opportunity to conduct fieldwork abroad for my thesis in the PIA program. This experience strengthened the qualitative research skills I developed through coursework and gave me first-hand experience investigating a social issue. The program's emphasis on making anthropological research accessible is something I have carried forward with me as an PhD student. The methodological skills I developed in this program were the impetus behind my decision to start a qualitative research facilitation business.
Admission Requirements
A four-year honours degree in anthropology will be preferentially considered.
Students with degrees in other programs including the natural sciences are encouraged to apply if their background aligns with the interests of existing faculty. We recommend these students have five anthropology courses that include courses in both biological and social/cultural anthropology.
Minimum B+ average over their last two years of academic study.
Program Completion Requirements
Students must either complete a minimum of 2.0 credits and write a thesis OR complete a minimum of 4.0 credits (including 1.0 credit for the Major Paper course) and write a major paper.
All students are required to attend ANTH*6000 Public Issues Anthropology in their first semester and ANTH*6700 Pro-seminar in their first two semesters. They must also master basic theory and methodological skills.
---
Collaborative Specialization in International Development Studies
Students can choose to combine their MA in Public Issues Anthropology with an International Development Studies (IDS) specialization. The collaborative IDS specialization offers an interdisciplinary framework for the study of international development that combines training in a selected academic discipline with exposure to a broad range of social science perspectives.
---
Collaborative Specialization in One Health
Students can choose to combine their MA in Public Issues Anthropology with a One Health specialization. The collaborative One Health specialization prepares future leaders for the complex challenges at the confluence of human, animal, and environmental health, working across disciplinary boundaries, conducting multidisciplinary research, mobilizing knowledge, and informing policy.
Take the Next Step
Start the application process and explore options for funding your education.